Hello all.  Today I'm sharing a tutorial for my Quilt Block Mania quilt block.  I'm still working on getting it set up as a stand-alone pattern, and will advise everyone when its ready, but for now, I am happy to offer you a simple picot-toot that will show you how this block is made.
Before we get into constructing my Summer School block I want to share the colour palette  for the Quilt Mania July Summer Fun collection of blocks: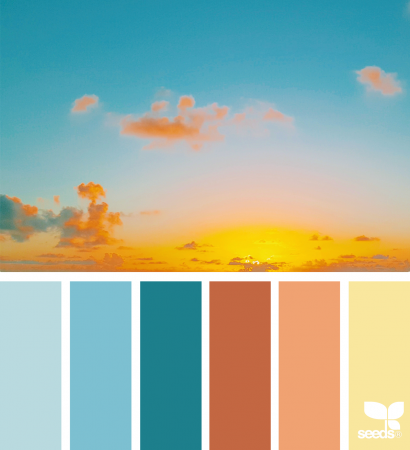 Doesn't this just scream summer days on the beach to you?  Me too!
So lets build my "Summer School" block.  The block is comprised of 3 "Fishy" units and one 6.5" square of the water fabric.  To make one of the three (3) fishy units in this block you will need,
three (3) 4″ squares of water fabric.  I chose this awesome teal blue for the water, because I couldn't resist the little fishies swimming around in it.
four (4) 4″ squares of a bright/contrasting fabric for the fishies. Mine are different shades of coral…but the sky's the limit for fishy colours.
Stack three "water" 4″ squares and place your "Circle Cut Ruler" (CCR) as shown in the photo below.  Using a sharp rotary cutter, cut an arc using the 4″ groove.  You may find it helpful to use a sharpie pen to mark the base of the grooves, so you don't accidentally cut this convex shape too big or too small.  (Just saying…don't ask me how I know this could happen).
Keep the "concave" unit and discard the convex unit….or keep the scraps to use again another day.  Waste not, want not and all that.
Stack three (3) of the four "Fishy" fabrics.  I love this coral fabric.  It reminds me of fishy scales for sure.
Place the CCR as shown below and slice an Arc using the 5″ groove.  Recut the remaining square to measure 3.5″ and set aside. (This will become the fishy's body in a later step)
This time you will keep the convex unit and discard the concave unit.
Pair up one "water" unit and one "fishy" unit.  I know the water unit arc looks too small, but its not–the segments will sew together perfectly using a 1/4″ seam.  This is completely due to the forces of magic in the universe AND to the precision of the CCR.  Trust me it will work!
Flip the Fishy unit (convex piece) onto the Water unit (concave piece) as shown below and using a 1/4″ seam begin sewing slowly around the arc.  All you have to do is make sure that both pieces are lined up as they go under the needle.  Because these units are cut precisely with the CCR, they will sew together perfectly.  You may want to use a tweezer to ensure the pieces line up together perfectly near the end of the seam.
Continue piecing until all 3 curved units are sewn. (No picture, sorry it turned out really fuzzy and you guys all know what chain piecing looks like.)
The next step is to square up the fishy units so they measure 3.5″ unfinished.
Position your favourite square-up ruler on top of one of the units as shown below. Its pretty self explanatory.  Once you have the unit lined up with the 3.5″ lines, you will have about 1/2″ to cut off.  Flip the unit over and trim to make sure its 3.5″ exactly.  Do this for each of the three (3) fishy units.
YAY!  the scary part of making this block is done.  You should stop right now and do the dance of joy because you just successfully made 3 perfectly perfect drunkard's path blocks … easy peasy, no fuss, no muss, no templates.  My heart still goes pitty-pat with joy every time I do this.  I bet yours will too.
Continuing on to the next step.
Retrieve the fishy fabric square that you cut down to 3.5″ previously.
Set out each of the 3 fishy units and the and the 3.5″ square as shown below.
Sew the rows together.  Press the top seam to the right and the bottom seam to the left so they will nest nicely.  (sorry no photo of this finished unit).
Each fishy unit measures 6.5″ (unfinished).
Make 2 more of these pretty little 6.5″ units for a total of 3 fishies in each block.
Consider changing up the body and fin fabrics to make your quilt block really shine.
Once you have three fishies finished, you can build a 12.5″ (unfinished) block.
Cut a 6.5" square of the "water" fabric.
Lay out the three fishies and the water as shown below
Sew the rows together, pressing top row seam to the right and bottom row seam to the left.
And there you have it.  An adorable 12.5″ block that I'm calling Summer School (because fish swim around in schools).   If you want to see more of the wonderful Quilt Block Mania blocks,  here are the links for your enjoyment.
Here are links to all the blocks in the Quilt Block Mania Summer Series:
Camping Tent by Carolina Moore
Beach Umbrella by Jennifer Fulton
Flip Flops by Becca Fenstermaker
Summer Cocktail by Marian Pena
Beach Ball by Laura Piland
Popsicle by Sherry Shish
Curvy fish by Velda Roy
Angelfish by Lisa Amundson
Bucket and Shovel by Heidi Pridemore
Wonky Beach Umbrella by Jamie Siel
Starfish by Leanne Parsons
Sailboat at Sunset by Glenda Wilder
Yacht by Sue Griffiths
Food/Ice Cream Truck by Laura Strickland
Crab by Afton Warrick
Sleeping bag and star by Sarah Vanderburgh
Funky Flower by Kathryn LeBlanc
IceCream Cond by Sarah Marcina
Sunglasses by Celine Perkins
Sun by Charisma Horton
Hello Summer by Amarar Creacions
Tall Ships by Kris Driessen Link not working–See below
Life Saver Preserver by Sandy Fitzpatrick
Dragon Fly by Julie Luoma
Did you do something creative today?